Online tutoring gives you the exact same proven teaching strategies as in-person. With added convenience.
Time and time again, we have incredible success with online tutoring for our students. This includes high school students, elementary school students, and students who have been diagnosed with ADHD or autism.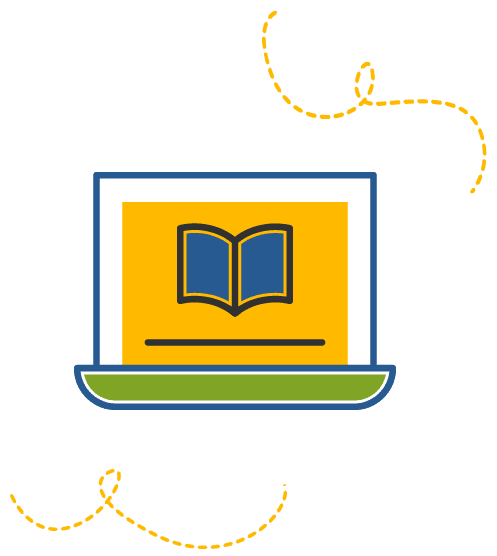 The Perks of Online Tutoring
Extra flexible
Going online opens up more availability with tutors so it's even easier to find a time slot that works for you.
Lower investment
Since tutors don't need to commute, virtual tutoring comes with a lower hourly rate. Bonus!
Meet your tutor ASAP
With online tutoring, you're introduced to your tutor within 24 hours of completing your registration form. That means your child can start learning ASAP.
Our approach to online tutoring
We use the same tailored approach with online tutoring as we do with in-home tutoring:
Your tutor assesses where your child is at and identifies techniques that resonate with them as individuals. Your child learns how to embrace their unique learning style.
Using intuition and proven teaching strategies, your tutor breaks content down into digestible chunks so your child can master them. Your tutor may use a combination of games, interactive challenges, and micro goals.
As a parent, you get updates on progress after each session so you can see the impact your investment is making. This is the key reason it only takes 1-3 months for MyGradeBooster students to see significant results in their skills and performance.
Some parents wonder if online tutoring can be as effective as in-person. And hey, that's understandable (we probably don't need to remind you about those long school days in COVID lockdown…)
While virtual classes with a large group can make it difficult for some kids to stay engaged, one-on-one tutoring is a different experience. The tutor is interacting solely with your child which means they can use ultra-tailored strategies to keep them on track.
This allows us to make the same great progress with online tutoring as we do with in-person tutoring.
Frequently asked questions
Yes! You may start with online tutoring and add a couple of in-home sessions or vice versa. You're always welcome to mix it up and see how things go.
We offer online tutoring for all students, from grades 1-12.
We offer online tutoring for all of the subjects we teach: math, chemistry, physics, science, English, and general homework help.

"My daughter has been seeing a tutor for English for a few months now and it has really helped her. She has better grades, more confidence and less stress. We are really happy to have found MyGradeBooster."
Get in touch
We'll match your child with the perfect tutor.
Free meet and greet
Chat with your tutor before committing.
Assessment
Your tutor will assess your child so they can meet them where they're at.
Start!
Let the learning begin.